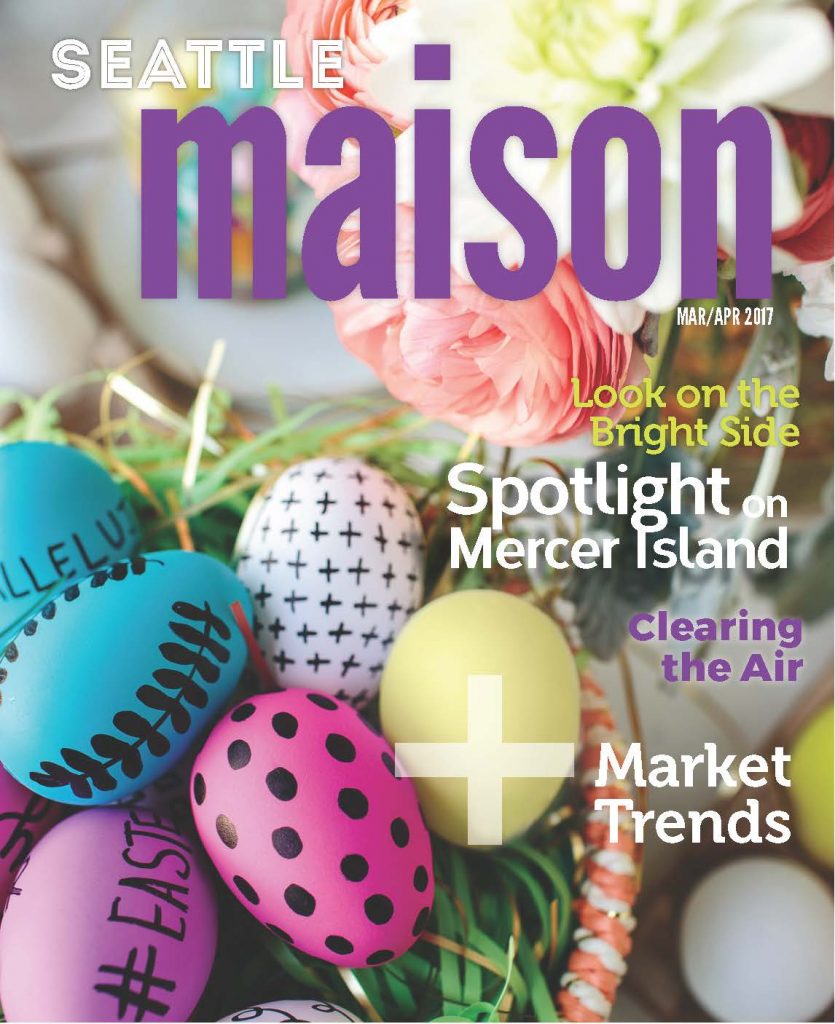 I know I say this just about every time a new Seattle Maison debuts, but I think the Spring 2016 issue just may be the BEST version yet! I love, LOVE the fresh topics, and this issue features a spotlight on my favorite stomping grounds around Mercer Island!
Bold colors, geometric patterns, splashes of jewel tones and vibrant blues – these trends are hot right now. In the article, Looking On The Bright Side, you'll get the scoop on how to incorporate over-sized art pieces, wall paper, and splashy accent pieces into your current décor. I've been drooling over all the photo examples in the article. Oh my!
Safer, Cleaner Air
The March/April issue also includes a fabulous article featuring 7 plants that look beautiful in your home and will help purify the air. Formaldehyde is one VOC producing chemical that is commonly found in household products, building products, and furniture. It's also one of the toughest to dispel from your abode. The 7 plants discussed in the article not only purify air of a variety of toxic chemicals, they are all champs at removing Formaldehyde emissions.
As always, Seattle Maison includes local housing market stats, to keep you in the loop on our red-hot, fast-paced real estate landscape.
Rain, Rain Go Away…
March has definitely been a lion so far – wet, rainy and cold. Let's hope that the second part of these saying – out like a lamb – arrives soon! I'm definitely looking forward to warmer days, gentle spring breezes off the lake, and sunshine! Until then – delve into the wonder of color within your home and dabble with some the techniques shared in the pages of Seattle Maison magazine!
Want to receive your own copy, emailed when the magazine is "hot off the press?" Email me at kathryn@windermere.com to sign up.
I hope you will join me at the parade in Towncenter on Saturday, July 9th, at 10 am. I will be there handing out festive noisemakers so we can cheer on our favorite parade participants in style! Below is a snapshot of the festival activities and includes a link to the full Summer Celebration schedule. ~ Kathryn
Join Us for a Free Kids' Planting Event at Summer Celebration!
Summer Celebration is coming back to Mercer Island's Mercerdale Park and Luther Burbank Park on July 9th and 10th, complete with live entertainment and events at ourWindermere Stage. Our office is proud to be sponsoring a fun children's gardening event and a booth with fun giveaways for kids and grownups alike…
"My First Garden" Free Planting Event for Kids
Saturday, 7/9 at 1:45 pm
The Windermere Stage
Coloring Contest and Giveaways
Saturday, 7/9 from 10am – 7pm
Sunday, 7/10 from 10am – 5pm
The Windermere Booth
More from the Mercer Island city website:
"Summer Celebration 2016 theme is "Symphony of Summer" and is all about music! Come enjoy a weekend of musical entertainment and fun all weekend long, July 9th and 10th in downtown Mercer Island. Join us for community karaoke, arts & crafts, community parade, car show, Obliteride Kids Ride, Boat Rides Around the Island, music activities, Food vendors, fireworks, live bands & entertainment, and a Swedish Pancake Breakfast."
Festival Hours:
Saturday, July 9

Town Center

11 am to 7 pm
6:00 pm to 10:30 pm
~10:00 pm – Fireworks

Sunday, July 10

10 am to 5 pm
Festival Locations:
Mercerdale Park (Main Festival, Parade, Obliteride Kids' Ride)
3249 78th Ave SE
Mercer Island, WA 98040
Luther Burbank Park (Fireworks, Shakespeare, Boat Rides)
2040 84th Ave. SE
Mercer Island, WA 98040