The Spring 2017 issue of Windermere Living is fabulous! This is the first issue of Windermere Living featuring homes from around the Western United States. Since Windermere Real Estate is a regional real estate company, with over 300 offices spread across 10 states, it makes perfect sense to broaden the scope of Windermere Living from the Pacific Northwest to all the Western states where we have offices.
I'm so honored to be featured in this issue, on pages 28 & 29. My feature includes 6 of the properties I sold in recent months. My featured properties include both buyer represented and seller represented homes.
I hope you enjoy the latest issue of Windermere Living as much as I have. If you would like to have your own copy of this magazine, please send me an email at kathryn@windermere.com.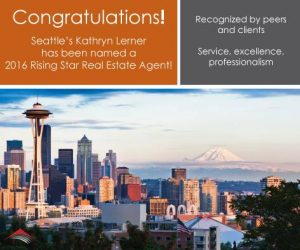 As a recipient of the 2016 Rising Star Real Estate Agent award, I have been recognized by clients and peers for the work I do. I'm very humbled to receive this award from Seattle Magazine, and grateful to my clients and the team of professionals who help me deliver top notch customer service.
I love my job, and am really excited to see where the Seattle housing market is headed in 2017. Thank you for being a part of my journey.