With 2020 now in full swing, we're seeing some clear shifts in how homes are being designed and decorated. Most notable for our area is the Modern Farmhouse trend with its juxtapositions of old & new, light & dark, and clean & rustic. Softer grey and lagom neutrals are here to stay, but are now being contrasted with deep hues and warm metals. Organic materials such as natural wood and potted plants are also gaining prominence. Here are some key trends to consider as you refresh or renovate…

Deep blue is the "it" color in home decor, with Pantone's "Classic Blue" and Sherwin-Williams' "Naval" each taking color of the year honors. Navy accent walls are gaining popularity in smaller spaces such as foyers, dining rooms and powder rooms. Black is also back as an accent set against white in kitchens, living rooms and bathrooms. High-contrast graphics are making an appearance on wallpaper and bathroom tile.
---

Whether it's antique artwork, floral wallpaper or vintage tile, old world charm is making a comeback…with a twist. This time around we're seeing vintage framed art, patterns, woods and statement pieces being incorporated into modern spaces with clean lines. The Modern Farmhouse epitomizes this trend with its fresh new take on the old.
---

The all-white kitchen is making room for grey and painted cabinets to take the stage. For the daring, "color pop" cabinets in deep blue, black or even red have been cropping up in the modern kitchen. Kitchens that do have white cabinets are being spiced up with decorative tile floors and backsplashes, along with darker wood shelving and contrasting light fixtures.
---

Soft shearling, rustic leathers and fluffy textured mohairs are gradually replacing the luxe velvet we saw in years past. High performance outdoor-style fabrics have also gotten an upgrade and are appearing indoors on upholstered dining room chairs and couches. Cushy wing-backed dining benches and chairs are another notable trend, part of an emphasis on making dining rooms less formal and more comfortable. Another fun trend? Curved sofas for the dining room and kitchen.
---

Matte brass continues its popularity in fixtures and frames, often mixed with silver metals. We're seeing an infusion of aged wood accents, patina, rustic leathers and earthenware softening the clean lines of today's minimalism. Potted plants are also popping up on shelves and in windows with olive trees usurping fig trees as a favorite statement piece.
---
Need an instant home update? Try adding throw pillows, blankets or artwork in hues from Pantone's Spring/Summer 2020 color palette.
---

Find a Home | Sell Your Home | Property Research
Neighborhoods | Market Reports | Our Team
We earn the trust and loyalty of our brokers and clients by doing real estate exceptionally well. The leader in our market, we deliver client-focused service in an authentic, collaborative and transparent manner and with the unmatched knowledge and expertise that comes from decades of experience.
2737 77th Ave SE, Mercer Island, WA 98040 | (206) 232-0446
© Copyright 2020, Windermere Real Estate / Mercer Island
Posted on March 5, 2020 at 2:43 pm
Windermere MI
Category:
Uncategorized
Tagged

2020, color, decor, dining room, home, interior design, kitchen, modern farmhouse, trends, vintage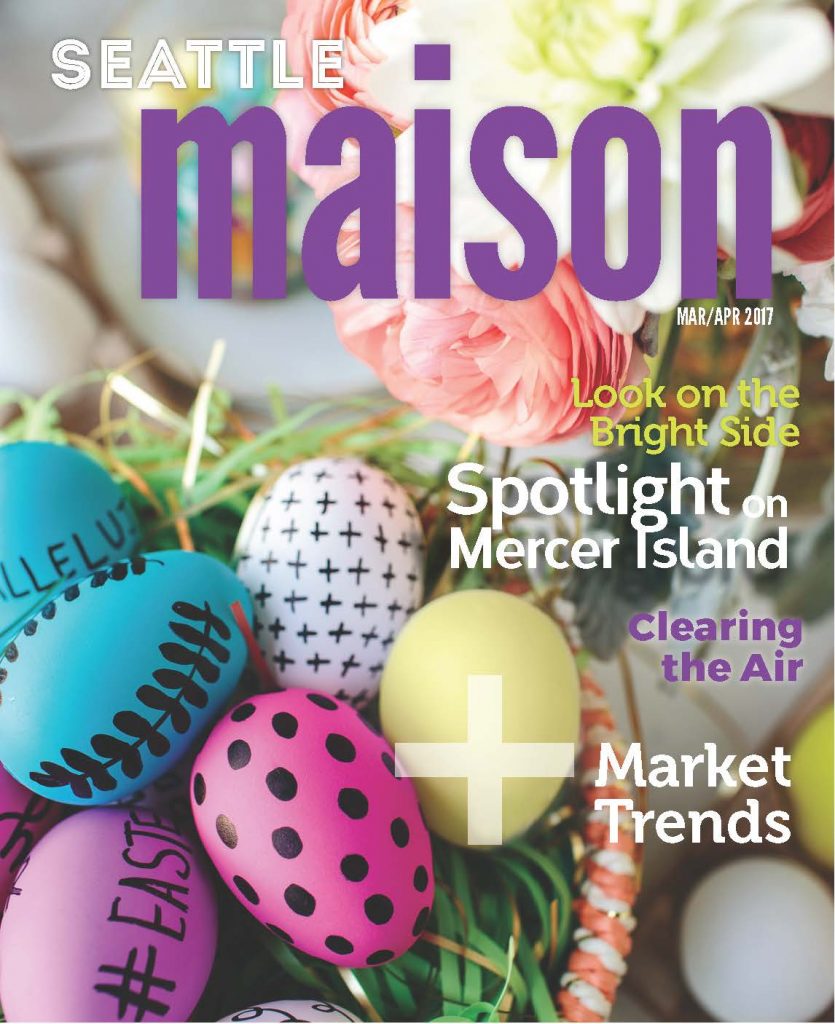 I know I say this just about every time a new Seattle Maison debuts, but I think the Spring 2016 issue just may be the BEST version yet! I love, LOVE the fresh topics, and this issue features a spotlight on my favorite stomping grounds around Mercer Island!
Bold colors, geometric patterns, splashes of jewel tones and vibrant blues – these trends are hot right now. In the article, Looking On The Bright Side, you'll get the scoop on how to incorporate over-sized art pieces, wall paper, and splashy accent pieces into your current décor. I've been drooling over all the photo examples in the article. Oh my!
Safer, Cleaner Air
The March/April issue also includes a fabulous article featuring 7 plants that look beautiful in your home and will help purify the air. Formaldehyde is one VOC producing chemical that is commonly found in household products, building products, and furniture. It's also one of the toughest to dispel from your abode. The 7 plants discussed in the article not only purify air of a variety of toxic chemicals, they are all champs at removing Formaldehyde emissions.
As always, Seattle Maison includes local housing market stats, to keep you in the loop on our red-hot, fast-paced real estate landscape.
Rain, Rain Go Away…
March has definitely been a lion so far – wet, rainy and cold. Let's hope that the second part of these saying – out like a lamb – arrives soon! I'm definitely looking forward to warmer days, gentle spring breezes off the lake, and sunshine! Until then – delve into the wonder of color within your home and dabble with some the techniques shared in the pages of Seattle Maison magazine!
Want to receive your own copy, emailed when the magazine is "hot off the press?" Email me at kathryn@windermere.com to sign up.